This post may contain affiliate links. If you purchase through these links, you may be helping to support a voracious curriculum buying habit. Be warned. And thank you for clicking through to purchase.

Don't forget to enter the giveaway to win your own copy of Impact. Keep reading to the bottom of the post and enter the Rafflecopter giveaway!

Dr. Tim Irwin is a psychologist and professor of psychology. He has done business consulting with various well-known corporations throughout the years. Impact is his book about how to be a leader that makes an impact.





It may seem a little odd that I'm reviewing a book about leadership from an author who has been a business consultant. I'm not the CEO of a business. In fact, my husband and I have never worked in the kind of business that author, Dr. Tim Irwin has worked with. But I believe that leadership qualities can be important in many areas- not just in the corporate world. We exercise leadership in our family. We hold leadership positions in our church. I've had opportunities over the years to lead in many different positions outside of corporate America.

I also believe that we are raising leaders. Our children may never be a part of corporate America. They may be doctors, lawyers, teachers, homemakers, or garbage collectors. It's our prayer that they will be the people that God calls them to be. But wherever they are, I want them to be leaders. I want them to seek to glorify God in the position that they are in, to make an impact on the people around them.

So, although this book was a little outside of the realm of books I usually read and review, I picked up Impact.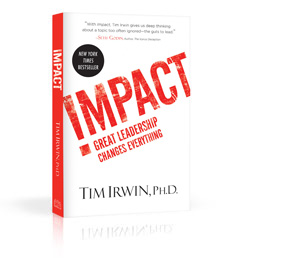 Dr. Irwin begins the book with a fictional story of a CEO who didn't make an impact, who didn't influence the people and circumstances around him in a positive way. He goes on to set up the book's organization by telling how he's going to discuss qualities and characteristics and attitudes of leaders. And then he begins. The chapters are short for the most part. They are easy to read. Dr. Irwin uses many graphic illustrations- which is great for visual learners like myself. In almost every chapter, he also uses stories to illustrate the point. This is another great way to help readers connect with what he's saying. Many chapters have a"Go Deeper" section at the end. In this section Dr. Irwin has surveys that the reader can take, personal evaluations to consider, and discussion questions to think about.

The book is straightforward and easy to read. It is not written from a Christian perspective. As a Christian parent I would prefer to have a book with a specifically Christian worldview to teach my kids about leadership. But there is valuable information here that I believe I can share with my kids as we try to teach and train them for leadership.

Dr. Tim Irwin's website has more information about him and about other books he has written. There are also some great free resources to go along with Impact- a free assessment and a free discussion guide that can be used for a group study.

If you're interested in Impact, you can read more about Dr. Tim Irwin and his books here. And you can connect with him on Facebook and Twitter. And don't forget to enter the Rafflecopter giveaway below to win your own copy of Impact.




"Disclosure (in accordance with the FTC's 16 CFR, Part 255: "Guides Concerning the Use of Endorsements and Testimonials in Advertising): Many thanks to Propeller Consulting, LLC for providing this prize for the giveaway. Choice of winners and opinions are 100% my own and NOT influenced by monetary compensation. I did receive a sample of the product in exchange for this review and post.

Only one entrant per mailing address, per giveaway. If you have won the same prize on another blog, you are not eligible to win it again. Winner is subject to eligibility verification.











a Rafflecopter giveaway


Don't miss out. Subscribe by email to receive all of my posts. Subscribe to As We Walk Along the Road by Email