This post may contain affiliate links. If you purchase through these links, you may be helping to support a voracious curriculum buying habit. Be warned. And thank you for clicking through to purchase.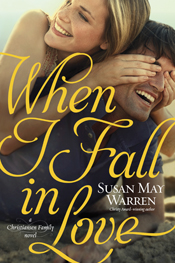 If you've been around Leah's Good Reads for while, you may know that I'm a huge fan of Susan May Warren's books. Her newest series is all about the Christiansen family. I had the privilege of being on the launch team for the first book in the series-
Take a Chance on Me.
Then I was able to read the second book-
It Had To Be You.
I loved both of these books, so I was super excited to receive the third book in the series-
When I Fall In Love.
This installment follow Grace Christiansen as she heads to Hawaii to attend a cooking school camp. She's not very adventurous and wouldn't have chosen this for herself. But her family keep pushing her to have adventures and expand her experiences. In Hawaii she meets Max Sharpe, who is actually on the same professional hockey team that her brother Owen played for (and that Jace from Book 2 played for.) It seems that Max and Grace are destined for a relationship, but Max has a dark secret in his family and avoids serious relationships.
Once again, I loved the book. Susan does such a wonderful job drawing the reader in and causing up to be absorbed in the characters and in the story. Her characters are deep and compelling. There's a perfect balance of reading behind the scenes to know the characters' thoughts and emotions and providing enough action to keep the story engaging.
Susan uses such descriptive words that invoke a response as we read. I can read her books and really feel as if I'm in the story, as if I know the characters. I find myself thinking about the characters in between reading, and I wonder how they are and what's going to happen to them. (If you are a book lover, you won't think I'm crazy!)
I love the tender romance. But along with that, I love the way that Susan brings in a spiritual focus without being "preachy."
I can definitely recommend this one, and of course, I'm now eagerly awaiting book 4 in the series!
I give this one 5 stars and a PG rating.
Disclosure: I received a free copy of this book in exchange for an honest review. I was not required to write a positive review, and I was not compensated in any other way.
Don't miss out. Subscribe by email to receive all of my posts.
Subscribe to As We Walk Along the Road by Email