This post may contain affiliate links. If you purchase through these links, you may be helping to support a voracious curriculum buying habit. Be warned. And thank you for clicking through to purchase.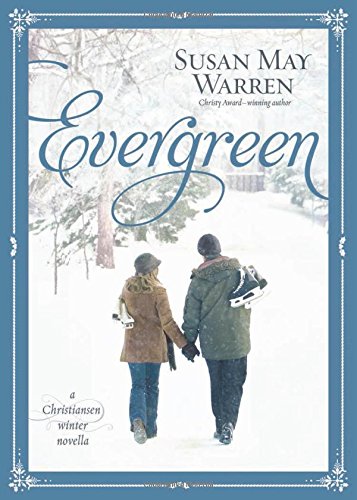 I've been enjoying the Christiansen family novels from
Susan May Warren
over the last couple of years. The books are romantic Christian fiction centering around the grown children of the Christiansen family one at a time. I've had the privilege to review all of them so far.
Take a Chance on Me
It Had to Be You
When I Fall In Love
I recently received Susan's novella-
Evergreen-
to read.
Evergreen
takes a detour from the lives of the Christiansen kids to look at their parents.
Evergreen
is all about John and Ingrid Christiansen. They think they're destined to be empty nesters for the holidays, and each of them is handling the idea differently. The story is a touching look at the reality of kids grown and gone and the relationship that the parents have once the kids are moving on.
I love all of Susan's stories. I haven't yet read one that I dislike. But I have to admit that I didn't want to like
Evergreen.
And here is why. I am forty. I have children who are very quickly growing older. I have two teenagers already. I can see the day coming when they are leaving home. As I've read the Christiansen novels, I've loved each one. I read and I can relate to the lives of these fresh, young people heading into life, falling in love. Because in my mind, I'm still twenty-something. But when I read
Evergreen,
I had to admit that, perhaps I'm more like John and Ingrid than like their children. Perhaps I have a little more in common with their stage of life.
And despite my desire to dislike it, I couldn't.
Evergreen
was another great story from Susan. Her characters are always so easy to relate to. The story has moments of humor and moments that are very touching.
Evergreen
is a novella, so it was a quick read and one that I could mostly finish in an evening. It makes for a great, short holiday read. And for fans of the Christiansen novels, it's a great side story that gives a little more insight into the family.
I can give
Evergreen
five stars and a PG for content. It's another great read from Susan May Warren.
Disclosure: I received a free copy of this book from the publisher in exchange for an honest review. All opinions expressed are entirely my own, and I was not compensated in any other way.
Don't miss out. Subscribe by email to receive all of my posts.
Subscribe to As We Walk Along the Road by Email